For years, I was mystified by the by the process of cooking pork belly. I thought I had to be Gordon Ramsey to get it right, and even tried recreating his recipe from one of his cooking tutorials (it didn't work out too well). It wasn't until I stopped complicating things, that I learned how easy it was! The only "hard" part about cooking pork belly is the prep phase, but only because it involves waiting a minimum of 8 hours. Other than that, it couldn't be easier! I don't get fancy with seasonings or anything like that, as I find that pork belly has a complex and succulent flavor profile of its own.
My AIP pork belly salad recipe is simple and delicious and is served over my favorite spicy leafy green – arugula. The technique that I use in preparing the pork belly is inspired by Bon Appetit's Crispy Pork Belly, and requires that you poke "1,000" little holes in the skin in order to release moisture, which results in a crispy skin. When its done, I drizzle everything with a slightly modified version of Eat Heal Thrive's Carrot Ginger Dressing for the recipe win!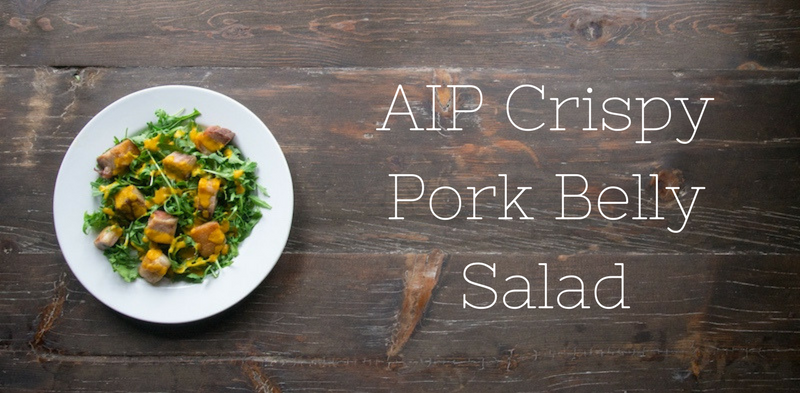 Prep Time: 8-12 hours         Cook Time: 100 minutes         Serves: 2-3
Ingredients:
1 lb. slab of pasture-raised pork belly (I prefer to get this from my local farmer)
1 teaspoon sea salt
1 teaspoon baking soda
1 teaspoon of vinegar
1 bag of organic arugula
Dressing:
1 medium carrot diced
1/2 cup olive oil
1/4 cup coconut aminos
1/4 apple cider vinegar
1 inch thumb of ginger minced
1 teaspoon of raw honey
INSTRUCTIONS:

Prepare the pork belly by using a small fork to poke "1,000" holes in the surface of the skin, without piercing all the way through into the meat. Rub equal parts sea salt and baking soda into the skin. Allow the pork belly to dry for 8-12 hours – this is ultimately what gives you a crispy belly! I like to do my prep the night before I plan on cooking to give it plenty of time to release moisture.
Rinse the salt and baking soda from the pork belly, and then neutralize the remaining baking with vinegar. If your pork belly is foaming excessively, you can give it another rinse. Dry thoroughly with paper towels.
Place the pork belly skin side up on a wire rack in a roasting pan. Cook in the oven at 350

°F

 degrees for 90 minutes. After 90 minutes, raise the temperate to 500

°F

 and cook for an additional 10 minutes in order to crisp the skin.
While the pork belly is cooking in the oven, combine all ingredients for the dressing in a food processor – preferably a NutriBullet – until you've reached desired thickness.
Your pork belly is ready when the skin starts to get puffy, bubbly, and crispy. Let it sit for 5-10 minutes to cool before cutting on a butcher block with the skin side down. I like to cut into 1-in. pieces before serving over arugula and drizzling with carrot-ginger dressing. Enjoy!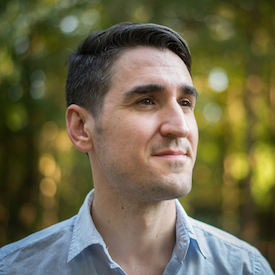 Ryan Monahan, FDN-P
The Mindful Nutrivore
Ryan Monahan is a "health detective" residing in Athens, Ga with a passion for uncovering the hidden stressors that contribute to thyroid malfunction. Ryan spent over 10 years visiting more than 40 health professionals to find answers to his chronic health complaints until being diagnosed with Hashimoto's in 2012. His mission is to change the dialogue about chronic disease towards a holistic, functional approach.